moem posting in

geekgirls
This year, I didn't buy any ornaments. I didn't use those I already have, either (except for the lights). This year's Christmas tree is decorated entirely with computer parts and electronic components.
Here's the entire tree:
See? Not as pretty. But you can see a few things that the other picture doesn't show clearly.
So what are all those round things?
Well, the biggest ones are CDs that have been microwaved. They get all pretty and craqueleed when you do that. I love the way they reflect the light.
The smaller ones, that can be bronze or silvery, are hard disk platters. They come in different materials: glass or metallic. The glass ones are very pretty and look like round mirrors with a hole in the middle, but you can't bend them at all and drilling holes in them is a risk. The metallic ones can be bronze or silver-coloured and they can be bent with pliers. Grabbing the edge and twisting it, then repeating the process all around the circumference of the disk, makes them look very nice, and you can easily drill a hole for a hook or wire to hang them from.
And then there are fan covers. They are the chromed or gold-coloured things that look like something you'd put a hot pot on. They are a lot of fun to use because they have loops that you can hang stuff from.

What else is there?
There are some pointy things that look silvery and copper-coloured. They're the part inside a hard disk that reads the data. The star ar the top is made from six of them.
There are some cylindrical metal things, most of them blue. They're condensators (a bit like batteries).
I also used the metal rings that you'll find in between the platters when you take a hard disk apart. And some copper coils from inside a computer power supply. And some other assorted bobs & bits that were laying around.
And to make hooks or tie stuff together I used lots of thick bendy copper wire. The kind that comes in plastic insulation, and links your light switch to your lamp.
So here it is... my geeky tree. I had a lot of fun making it, in fact I did it as a
project
in my
hackerspace
and organised a small
workshop
on the same topic. I hope it'll give someone out there some new ideas.
Here are some pics of details: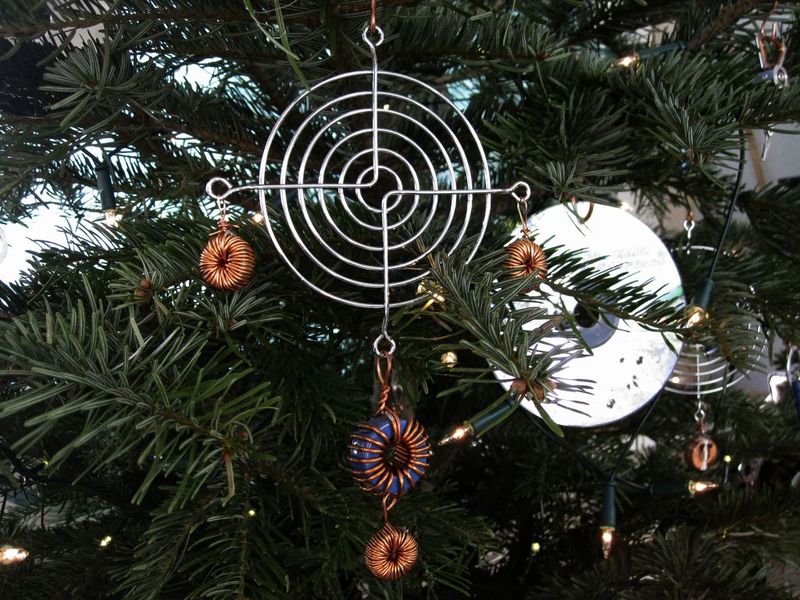 (fan cover, power supply coils, microwaved CD)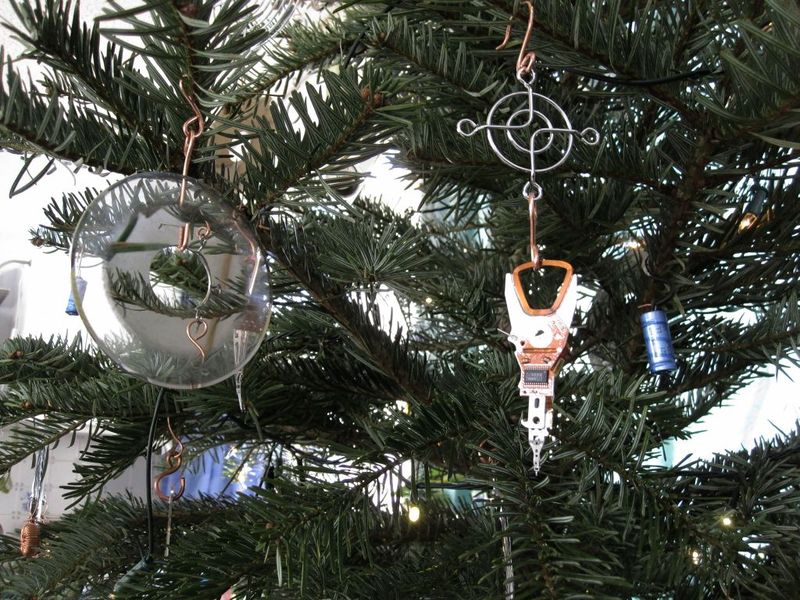 (glass platter after a head crash, small fan cover, hard disk reading head, condensator)
(hard disk reading heads, copper wire)

So, anyway...
dear geek girls, have a lovely Christmas, or any other celebration that you wish to celebrate. Be excellent to each other. Be creative and have fun. And support your local hackerspace.